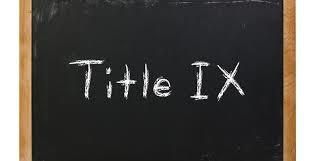 Title IX is one of the most predominant civil rights laws that restrain discrimination based on sex in educational programs and activities. When any public or private university is receiving Federal funds, it must abide by Title IX laws. Title IX rules and laws include but aren't limited to sexual harassment and violence including sexual assault, sexual coercion, and rape. A lot of students in university programs aren't aware of the existence of Title IX so the purpose of this article is to shed some light on the basics of Title IX.
Under Title IX of the Education Amendments of 1972: "No person in the United States shall, on the basis of sex, be excluded from participation in, be denied the benefits of, or be subjected to discrimination under any education program or activity receiving federal financial assistance." Under Title IX laws, schools are legally required to act and respond to any hostile environment that a student can be in. Any failure to adhere to this would lead to the school losing its federal funding.
There are some procedures that schools must comply with in order to not lose this federal funding. These procedures are also put in place to help prevent sexual harassment and sexual violence. Schools and Universities are required to have and distribute a policy that prohibits sex discrimination. This includes nondiscrimination in their educational program and activities. This policy must be distributed among the whole campus and should be easy to locate. Any concerns regarding Title IX should be referred to the school's Title IX coordinator. This brings us to the second procedure, which requires all schools to have a Title IX coordinator. One employee is designated and responsible for maintaining the school's compliance with Title IX. Lastly, every school must have in place and make aware the students, staff, and employees of the procedures needed to file a complaint about a Title IX violation. Nonetheless, sexual harassment and/or sexual assault are Title IX complaints. When complaints are submitted, schools are required to investigate the complaints and notify parties about the complaint and the process as well as re-issuing those involved in the Title IX policy for the school. After the outcome parties can file an appeal if this is applicable.
This brings us back to the responsibilities that schools. They have to address any sexual harassment/ sexual violence incidents. They are responsible to respond effectively and in a timely manner to any complaints made within Title IX. That being said, if a school knows of sexual violence or sexual harassment acts that are leading to a hostile environment, they must respond immediately. In the case of students or parents refusing to file a complaint or one hasn't been requested, the school should take instant action on that student's behalf if the school has knowledge of any sexual violence or sexual harassment acts. Doing so by further investigating and then taking the appropriate steps to solve the situation. Lastly, even if a criminal investigation is also taking place due to there being sexual harassment or sexual violence act, the school is still obliged to take its duty under Title IX to solve any complaints in an orderly fashion as well.
You are heard. If you feel like your complaint is being taken lightly, or rejected by your school, reach out to your school's Title IX department. If you feel they are brushing you off or ignoring your complaint, you can reach out to the Department of Education Title IX to investigate your school's Title IX compliance.