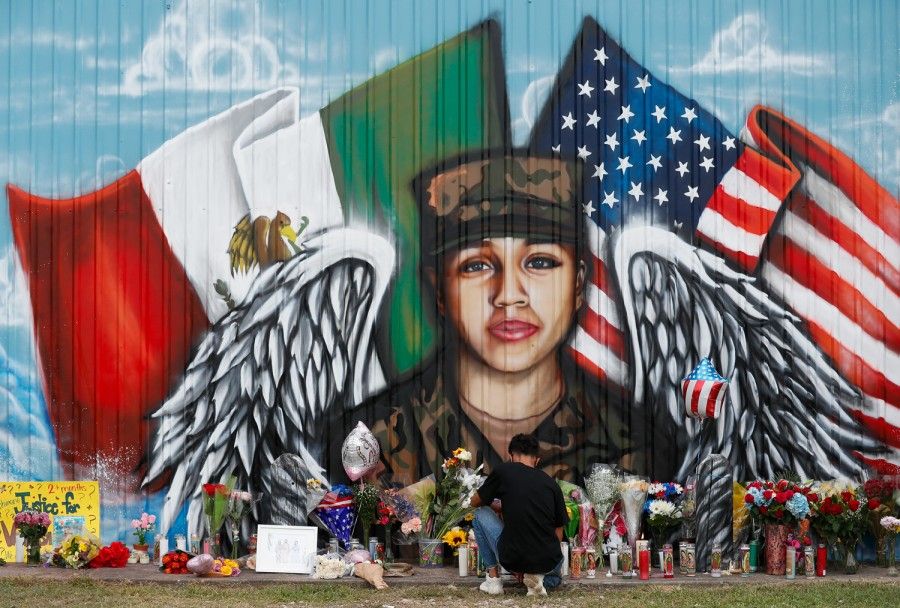 Vanessa Guillén was a 20-year-old girl who was stationed at the Fort Hood military base in Texas. Fort Hood is one of the largest military bases in the United States with 90,000 people. Guillén disappeared in the military bathroom in April of this year, but days before her disappearance she revealed to her mother by phone that a sergeant sexually harassed her.
Vanessa told not only her mother, but her two sisters, and her friends what the man had done. The man harassed her to the point of going to the shower where she bathed and sat down to see her. Vanessa was intimidated. Now, you would ask yourself "But then why didn't she seek help?" or "Why did she not immediately report the harasser? " Vanessa did not report the incident for fear of what might happen inside the Army and for fear that something would happen to her family. The Army has so much power that she did not want to be accused of insubordination. But to calm things down with her family, she decided she was going to take care of it, but that was the last time Vanessa's family heard from her.
Vanessa's Disappearance
On April 22, 2020, Vanessa Guillén disappeared from the Fort Hood, Texas base. The question is the following, how does a person disappear from the military base overnight? Is there not supposed to be a sergeant who keeps a list of the names of the soldiers who are present? Aren't they supposed to have a schedule when soldiers have to report back to base? How is it possible for a person to disappear?
Vanessa was never able to officially report and her sister, Lupe Guillén, told reporters, "My sister was afraid to report the harassment because no one was going to listen to her. They take sexual harassment and sexual assault as a joke. They don't care." This experience is not exclusive to Vanessa. Regular surveys of the Army, Navy, Air Force, and Navy show that approximately 1 in 16 women and 1 in 30 people will be sexually harassed while on duty, but only 6,000 reports with only around 250 cases prosecuted. So, 10/1000 people are attacked and nobody is there to protect them or help them because they are the same people who take it as a joke (more stats linked at the bottom of the page).
What is Happening Now
Natalie Khawam, the Guillén family attorney, advised that before Vanessa went missing, the Houston native told family members that she was being sexually harassed on base, but she feared to report it to her chain of command. Many questions have been raised about the program following the disappearance of 20-year-old Guillén, especially from her family. On June 30th, contractors working on a fence near the Leon River, about 30 miles from the base, discovered human remains. When authorities searched the area, they found scattered human remains that appeared to be placed into a concrete substance and buried. According to special agent Damon Phelps with the Army's Criminal Investigation Command, Aaron David Robinson, a 20-year-old Army Specialist, was identified as the person of interest in Guillén's case. Robinson died by suicide after authorities made contact with him. As this important investigation is underway, Khawam also stated that the family is pushing for legislation in Guillén's name that would provide "a separate agency, something like the EOC (Equal Employment Opportunity Commission) in the private practice world. It would have an independent person, not part of the command, not part of the military, that's unbiased. A different set of eyes." They're hoping the legislation will lead to unbiased investigations and reviews of sexual harassment allegations in the military.
What's Next?
Sexual violence and threats of retaliation and violence are not unique to Vanessa. These issues are common hurdles and/or consequences for people in the military who try to report or fight against sexual violence. There are gaps in agencies, support, and protections for survivors of sexual violence and in the military, the gap is getting exponentially bigger, so what can we do?
Demand Accoutanbility and action call the House/Senate Armed Services Committe: 1-855-906-4925

"I am E-mailing/calling you to demand a congressional investigation by the US Senate and House Armed Services Committee on the Army's handling of the disappearance and murder of Vanessa Guillén

."

Contact local and state elected officials and ask what they are doing to ensure the safety and protection of survivors of sexual violence. What are they doing to prevent silencing and retaliation on local bases?

Research the "

I am Vanessa Guillén Bill

,

" set to be released July 29th. It is fighting to make all sexual violence reports reported to and investigated by an outside 3rd party, instead of Commanders and fellow soldiers that might be doing the assaulting.

Donate to the Vanessa

Guillén

GoFundMe

, created by her sister, to support her family.

Keep sharing

her story

. Every chance you get, share her story.
This is a constant on-going fight, we encourage you to use your voice, platform, and economic resources to help get justice for Vanessa and the tens of thousands like her. If you or anyone you know is experiencing sexual violence contact your local assault crisis center or the RAINN online chat or hotline, 800-656-4673.
---
Image from a mural in Houston created to honor Vanessa Guillén
https://www.pdhealth.mil/clinical-guidance/sexual-assaultsexual-harassment
www.protectourdefenders.com/factsheet/
https://www.reuters.com/article/us-usa-military-sexual-assault-idUSKCN0XW28E
For more info check out the sources linked on this sexual violence in military Wikipedia page