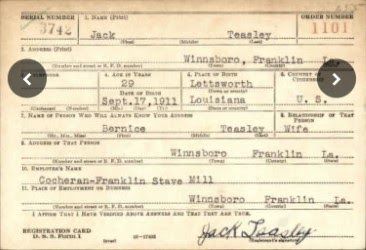 Millennials, have you completed your census this year? 
I was born in 1990 and I've been head of my household for two censuses now. Yet, I have to admit 2020 is the first year I am actually filling out the census. I also have to admit, even though I am sharing what I've learned from my research of the census; I personally only filled out the census for future generations of my family. 100 years from now,  I want my great-great-grandchildren to be able to look back and expand upon their family tree. 
The image on this blog is actually a picture of my great-grandfathers WWII Draft Card. I was able to locate him through a 1940 census that was released in 2012. Finding this Draft Card, radically changed my ideas about the census, and since that day I have anticipated the collection of the 2020 census. Around Mid-March, I began to receive notices to complete the 2020 Census responding by mail or on-line. If you have not responded by August, the U.S Census Bureau will begin following up in person to get households to fill out the census. Another fun fact I learned on Census.gov is by law, refusal to answer all or part of the census carries a fine of up to $500, although the penalty has rarely been enforced. But I don't want to "scare" you into filling out The Census, so below is a compilation of research and personal experience of why filling out the Census is so important.
5 Things I Think You Should Know About the Census
1.The United States has collected data about the population since 1790 and has continued to collect data every 10 years. 

2. The National Archives and Records Administration collected census data up until 1940, the following decade; The U.S Census Bureau began to administer and maintain census data collections. 

3. The decennial census began collecting basic information about people living in households such as; gender, race, completed grade level, occupation, relationship to head of household, read/write, and the number of slaves if any. 

4. The data records collected are sealed and kept confidential for 72 years. 

5. Data from the Census provides a basis for distributing federal funds annually across the country; impacting housing, education, transportation, employment, healthcare, and public policy.
If you are interested in tracking your family history, the Census is a great resource. 
Since I have been able to understand American History, I was taught African Americans are products of generations of slaves. For years, I carried resentment towards the concept of being a product of slavery. The realization of being free in a land where you own nothing, not even yourself and your history, is irritating. This resentment, on top of repeated history lessons of slavery, sparked the fire. I wanted to know where I actually came from. 
I asked myself; How well do you know your family history? Like really? 
I should be the one that knows myself and my family genealogy. Yet I find it that I only know aspects of my family by what my immediate family shares with me. Or better yet what was taught to me off of the "winners" of history's stories. All these feelings of discontent sent me on a quest to understand the genealogy of my last name. 
The key to starting my family history research was my immediate family. I would ask each relative about specific individuals and gather their birth dates, places lived, and other important information.
I found out that my great grandfather and great grandmother separated when my grandfather was a child. Then my grandfather and grandmother also separated when my father was a child. Each separation caused distance between the men in my family. Having separation and distance can make it difficult for oral histories to be passed down. So I quickly discovered that I had to accept that nobody would share much with me about my great grandfather. 
Throughout my research, I obtained his name from my grandmother. I started to research how far back I could locate my great grandfather in the U.S. Census data. I was able to find my paternal great grandfather, great grandmother, and grandfather on a 1940 census in Louisiana. I also was able to find out my great grandfather's occupation, race, and that my great grandmother was a servant. 
The furthest I was able to find my great grandfather was as a teenager identified as a lodger in someone's home around 1930. I needed an answer to why I couldn't find him on any census as a child due to him being born in 1911. After weeks of research, I was able to find the Canada Census in 1920. I was then able to identify my great-great grandfather's name as well. 
The tracking of my family through census has been very helpful for not only finding my family and starting an accurate family tree. It has also developed an understanding of my own bloodline through history that has helped me to identify myself as a Black American and not an African American. I learned over the past 100 years my last name and family have been in America, not Africa. No matter what history has taught me; I truly know I am an American and my bloodline fought hard for me to be able to identify as a Free Black American. 
Which is why I advocate for citizens to complete the census this 2020. By completing this simple form you are not only helping improve the economy, social environment, and conditions of the communities. You are leaving official documentation for a loved one 72-100 years from now.  
P.S. for those with inquiring minds; you can search the census by name and find your relatives that were living in 1940. By locating them, you will find out the names of persons who lived in your family members' homes at the time the census was recorded. Good Luck on your search and don't forget to fill out your 2020 census.  
---
Tyra Let's Talk Advocate