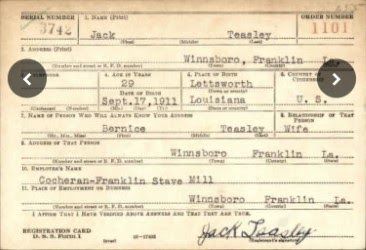 Millennial ro, emoj ke ami komman e bwonbwon ko ami ilo yio in? 
Ikar lotak ilo 1990 eo im ilakar baj head of household ilo ruo de bwonbwon kio. Akko, ij konan ba bwe 2020 ej yio eo jinoin ikar kanne bwonbwon eo. Ij bareinwot aikuj bar ba bwe, mene naij ba nan kom kon ta ko ikar katak kake jen ao kar katak kon bwonbwon ne; wunin ao kar kanne bwonbwon eo ej nan bamle eo ao ilju im jeklaj im ro renij tok elikin. 100 yio jen kio, ikonan bwe ro jibu im ro nejier im ro jibwier ren maron lale won ro rekar tok mokta jen er im jela kon menmenbwij eo an bamle eo aer.
Pija in ilo blog in ej pija in WWII Draft Card eo an jemen jimmao. Ikar maron loe ilo bwonbwon eo ekar komman ilo 1940 eo im ekar rolok ilo 2012 eo. Ke ikar loe Draft Card in, ekar komman menin an ukot ao lemnak kon bwonbwon in, im jen wot raan eo ilakar baj kottar e tok bwonbwon eo an yio in 2020. Ilowan allon in Maaj eo, ekar jino itok letta in ao aikuj in kanne Bwonbwon eo an 2020 ilo ao naj kane leta eo rekar mail e tok akko kanne ilo ion lain. Ne kwojanin kar uak er jen Okoj eo, U.S Census Bureau eo enij jino follow up ilo aer itoitak iom nan iom nan an armej ro kanne bwonbwon eo aer. Bar juon men ikar katak ilo ao kar ital nan  Census.gov ej ekar nan kien, ilo am makoko in uak e aolepen akko jidik kajjitok ko ilo bwonbwon eo, kwonij bakkin laptata $500, mene ekka aer jab kijon bakkin armej. Akko ijjab konan "kamijak" eok bwe kwon kanne bwonbwon en, kwonij loe ilal emoj ao ain aolepen research ko ao im men ko ekar walok nan io ilo ao im wunin an aurok bwe kwon kanne bwonbwon ne. 
5 Menko Ilak Lale Kwoj Aikuj Jela Kon Bwonbwon En  
1. United States emoj an ain aolep data kon population eo jen 1790 eo im ekar wonmaanlok im ain aolep data aolep 10 yio. 
2. National Archives im  Records Administration rekar ain data in bwonbwon ko tartar liklak jen 1940 eo, 10 yio tok elik; U.S Census Bureau  eo ekar jinoe komman im debij wot collection in data ko jen bwonbwon ko woj maan tak. 
3. Decennial bwonbwon eo ekar jino ain melele ko an armej ro ilo moko woj einwot; maan ak kora, ri-ia, kilaaj ta eo rekar jemlok ilo jikuul, jikin jerbal, rimarre ak ejjab nan head of household, riit/jeje, im nomba in slave ne ewor. 
4. Record in data ko im rej ain i rej seal i im jab kwalok nan juon iumwin 72 yio. 
5. Data jen Bwonbwon eo ej kake juon basis nan lelak federal fund ko aolep yio i belakin in Amedka in; ilo aer itak ippen moko, jikin bikot jelalak ijon, kilen itoitak, jikin jerbal ko, healthcare, im public policy.
Ne kwoj konan lale history in bamle eo am, Bwonbwon eo ej juon resource eo elap an emman. 
 Jen ke ikar maron melele kon History in Amedka, rekar katak in io ke rikilmej ro im rej bed Amedka kein rekar likit er mweiuk nan riballe ro ilo elon ebeben ko ilo aer kar kwuli nan er. Ilo elon yio ko, elap ao kar kojdrat e lemnak in an juon kwuli nan ro jet. Ilo ao kar melele ilo an juon kar anemkwoj ilo juon lal eo im ejelok mweiom ie, bar eok make ilo am jab maron komman e jabdewot men eo kwoj konan komman e im bwebwenato eo am, ebwe an kalulu. Akejdrat in, ion elon ien koikar katak kon bwebwenato in slavery, ekar komman menin an urur kijek eo ilo na. Ikar konan jela ia eo ikar itok jen e. 
Ikar kajjitok ippa make; Ewi jonan am ela kon bwebwenato in bamle eo am? Lukun in jela? 
Enkar na eo inkar jela kon na make im menmenbwij in bamle eo ao. Akko ij loe ke ijela wot   kajen jet wot nuku kinke ro nuku im elap ao ebaak er rej kwalok er nan io. Akko en emman lak ao kamelele ta ko im rekar katak in io jen "winner ro" ilo bwebwenato ko an rieto ro. Aolepen enjake kein ilo ao jab monono ekar komman bwe in bikot kilen ao melele kon menmenbwij in lastname e ao. 
Key in ao kar jinoe research e bwebwenato in bamle e ao ej kar juon nuku eo im elap ao ebaak e. Ij kajjitok ippen kajojo ro nuku kon bar juon armej, ien lotak, ijoko rekar jokwe ie, im melele ko jet im raurok.
Ekar itok bwe in jela kon jimman jema im jibun jema im kon aerro kar jepel ke jimmao ekar drik. Inem jimmao im jibu rekar jepel ke jema ej drik. Kajojo jepel ekar komman menin an jab ebaak momman ro ilo bamle eo ao. Kon aer kar jepel im etolak jen droom ekar komman menin an ben an bwebwenato in bamle eo ao walok nan bamle ko tok elik. Im ikar mokaj im jela bwe ikar aikuj in erra ippa ke ejelok en enij lap aer jela kon jimman jema. 
Ilo ao kar research, ikar boke etan jen jibu. Ikar jinoe research e ewi jonan ao nej kar maron tartar lik lak nan ao maron loe jimman jema ilo data eo an U.S. Census. Ikar maron loe lukun jimman jema, jibun jema, im jimmao ilo kar bwonbwon eo an Louisiana ilo kar 1940 eo. Ekar itok bwe in jela bwe melele ko an jimman jema kain kan an ijo ekar jerbal ie, e ri-ia, im kon an jibun jema kar juon rikamakoko.
Ikar maron tartar lik lak nan tore ko jimman jema ej teenage ilo an kar kiki ippen jet armej ilo kar 1930 ko. Ikar aikuj melele etke ijjab maron loe ilo bwonbwon ko jet ke ekar drik ke ekar lotak ilo 1911 eo. Elikin wiik in ao kar research, ikar maron loe Bwonbwon eo an Canada ilo 1920 eo. Ikar maron kio borainwot jela etan jimman jimmao.
Ilo ao kar bikote bamle e ao ilo kar bwonbwon ko woj ekar jab jiban wot io loe bamle ko woj ao akko ekar borainwot komman menin ao maron komman e menmenbwij eo an bamle eo ao. Ekar borainwot komman menin ao melele kon bamle eo ao im ro ikar itok jen er im komman menin an jiban io jela won na einwot juon ri-kilmej in Amedka im ejjab juon eo im ekar itok jen African American. Ikar katok ke ilo 100 yio emoot lak last name e ao im bamle e ao rekar baj bed wot ilo Amedka kein, ejjab Africa. Jekdroon ta ko history ekar katakin io; illukun jela ke naij juon ri-Amedka im ro im botoktoku rekar ion elon men ko reben bwe na in maron juon  ri-kilmej ilo Ameda kien im nain juon anemkwoj.
Im enin ej wunin ao advocate nan citizen ro bwe ren kane boom in bwonbwon ko aer ilo 2020. Ilo am naj kane boom in kwojjab jiban wot ilo am komanman lak economy eo, social environment eo, im joraan ko ilo jukjuk in bed eo. Kwoj ilik pepa in bamle eo am nan ro nukum  72-100 yio jen kio.  
P.S. nan ro im ewor aer kajjitok; kwomaron search e bwonbwon eo ilo am likit et eo im bikot ro nukum im rekar mour ilo 1940 eo. Ilo am nej loe er, kwonij ital im jela etan ro im rekar jokwe ilo mwon ro nukum ilo ien eo bwonbwon eo ekar bok jikin. Good Luck ilo am search er im jab meloklok in kane bwonbwon eo am ilo 2020.  
Tyra Let's Talk Advocate