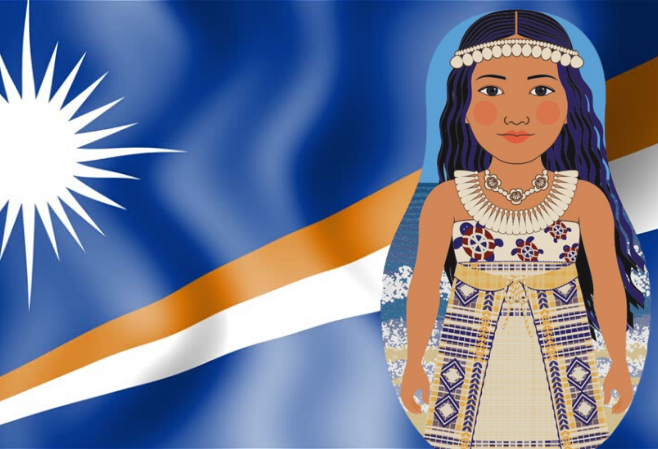 I was born into a culture where social distancing wasn't a thing. A culture where everything was celebrated with everyone, especially with families and friends. A culture where everyone, no matter how you're related or where you're located, came together and supported you during your time of need. A culture where everyone helped each other out just because we're all Marshallese and it's how we take care of our own. 
In the Marshallese culture, there are three events that we cherish: birth (first birthday), marriage, and death. All three events are centered around a big feast where families and close friends come from all over the world, even from the Marshall Islands, to be a part of the event. The event that's particularly close to home right now is death, or even when people get very sick and we support and help. 
There's a Marshallese saying, "ien elolo," which translates to a time of seeing, and we say this when someone has passed. This phrase means that you see your bloodline and all those who came before you. Ien elolo is relevant around death, because Marshallese people gather from all different parts of the country and world, to support the immediate family during their time of grief. It's a time of "jitdram" or time of getting to know your family tree. So not only is death a time of grieving, but it also brings about a time of connection, love, and family.
Family and getting together is a big part of the Marshallese culture and for the past three months, since COVID-19 broke out in the United States, we haven't been able to. Since the beginning of the virus, we have been instructed to stay home, to practice social distancing, and to stop our gatherings. This might be easy for some of you, but to a culture where everything is celebrated with each other, it has been hard on us. I can tell you it has driven me crazy, I even Facetime my sisters about five times a day. It has gotten to the point to where I am on YouTube watching Marshallese 1st Birthday celebrations to feel like I am celebrating with my community and upholding my culture. 
Not only are we struggling with not being around each other, but COVID has also started to spread fairly rapidly within the Marshallese community. This isn't even because we are a culture that connects with closeness, but because a lot of Marshallese people work in poultry factories and general factories throughout NWA. Within factories, COVID is able to spread rapidly. So rapidly in fact that many plants are forced to temporarily close. As COVID is swiftly spreading, it has caused people to be hospitalized. Usually, if someone is hospitalized, there's always someone with them, but now we can't do that. This has broken my heart. It's in our culture… no, it's in our nature to take care of each other. So as I sit here typing, knowing that someone I know and love, or my loved ones love and care about, is sick with the coronavirus and there's absolutely nothing we can do… it hurts. It's heartbreaking! 
Currently, we've lost about six Marshallese community members to the virus. I can't imagine how their families are coping during this pandemic. Usually, when someone dies in the Marshallese community everyone comes out and supports the immediate family. Everyone that's related or knew the person, would normally take time and go out of their way to visit the family. We usually take the family food and visit with everyone who came to support the family. This normally goes on until the person who passed is taken to a Marshallese church where they lay for three days. On the third day, the burial will take place followed by a  big feast,  or as we say a "eraak." It's a time where we celebrate their life and provide as much support and comfort as we can to the family. Eraak is a time where we eat and celebrate the beauty in life. 
I know I'm not the only one that wishes the coronavirus would just go away. Honestly, I think it will take more lives and most likely even more Marshallese's lives. I hate thinking, typing, or saying that but people have stopped practicing social distancing. Restaurants are opened back up, gyms are opened back up, and churches are opened back up. I know how important Church is to my community, but that's also scary because most of the people attending don't care because they say God has got them. I promise God is still protecting you, even if you practice from home. I am just very concerned and worried for my people. 
I have voiced my concern on social media. I have criticized those that don't take this virus seriously. Now that it has hit close to home, I'm scared and concerned for the sake of those that I care for. I just want to remind my people that our gatherings can hold off, we live once, and if you were to leave your loved ones behind, was it worth taking the risk?