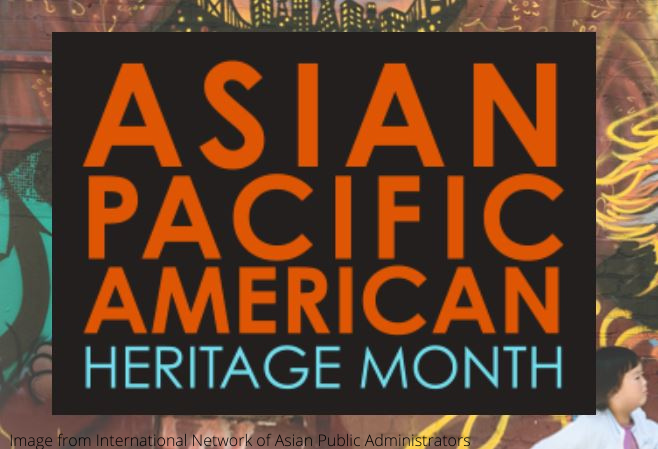 I have been going back and forth about writing this post, because of my struggle with the idea of heritage months. Yes, it is vital and important we recognize contributions made in society by all people, but it should be more than just a month. It shouldn't be a special occasion. History, year-round, should consist of different experiences, world views, and not just the stories of the white "victor." Incorporating different histories year-round allows us to better create communities that protect and uplift all people.
You may be thinking at this point What does a heritage month have to do with sexual violence, prevention, or mental health? Short answer, everything! When discussing and fighting for the end of violence it is important we understand the experiences that people and their ancestors have faced so we can create spaces and communities that better support, recognize, and create truly equitable spaces.
How Asian American and Pacific Islander History Month was created.
The fight for this month started in the 1970s with Jeanie Jew. Jew approached Congressman Frank Horton proposing the idea of formal recognition of the impact of Asian Americans and Pacific Islanders.  This was a personal fight for Jew because her great-grandfather emigrated from China in the 1800s. 
He, along with thousands of other Asian migrants, built the transcontinental railroad. This railroad altered the course of US expansion, economy, and power, yet nobody knew or recognized who made it (1). A decade after the completion of the railroad the US federal government passed The Chinese Exclusion Act of 1882 and was renewed through the Geary Act. These acts put restrictions or extreme identification regulations on Chinese people in the US. This was paralleled through a history of violence of using Pacific Islanders' homes as bomb and weapons testing grounds, putting Japenese Americans in internment camps, and racial violence preventing the use of language, culture, and religious practice. Despite all these different communities (and many more, not mentioned) being an integral part of US history, Asian Americans and Pacific Islanders' impact has been silenced, ostracized, and simplified to the trauma they've endured.
Horton and Jew fought for almost 2-decades. They made leeway In 1978 with the declaration of a week-long celebration and recognition of Asian Americans and Pacific Islanders' heritage and history. Then in 1990, President George H.W. Bush signed a bill making May a commemorative month. Finally, in 1992 Congressman Horton introduced a bill that declared May as the designated commemorative month for Asian American and Pacific Islanders Heritage Month (2). 
How to support and create space
This is the Blog for the NWA Center for Sexual Assault so I think during this month it is important to acknowledge the impact of sexual violence on these communities. 55% of Asian women, in the US, report experiencing intimate physical and/or sexual violence during their life. With 23% experiencing some form of contact sexual violence (3). These numbers are not drastically different than the national average, but what's important is the reasoning. A study conducted through the National Asian Pacific American Women's Forum found that 100% of Asian women who had been sexually assaulted on college campuses felt they were a target due to race compared to 0% of white women (4). *
For advocates, allies, and survivors alike this is important because it impacts what healing and community look like, as well as someone's willingness and ability to come forward. To help change the culture of violence and silence, people can work to educate themselves and the general community on the history and lived experiences of different communities. As well as uplift and support local and national groups for Asian Americans and Pacific Islanders. Just a few organizations are:
Kinke Kwojjab Make Iam (KKMI) at the NWA Center for Sexual Assault: Provides a safe and confidential refuge for the Marshallese speaking community in addressing sexual assault and harassment through support, understanding, and resources.
Asian Pacific Institute on Gender-Based Violence (APIGBV): a national resource center on domestic violence, sexual violence, trafficking, and other forms of gender-based violence in Asian and Pacific Islander communities
National Organization of Asians and Pacific Islanders Ending Sexual Violence (NAPIESV) founded by Asian and Pacific Islander advocates with the purpose of centering and supporting victims of sexual assault from API communities.
For more resources check out NSVRC's blog!
Feel free to share opinions in the comment section, or shoot me an email at alexandra@nwasexualassault.org
---
*These stats are not all-encompassing and the Asian American and Pacific Islanders community is large and full of many smaller communities with a distinct culture and life experiences.
1.Kat Moon, "How One Woman's Story Led to the Creation of Asian Pacific American Heritage Month," Time, May 23, 2019. https://time.com/5592591/asian-pacific-heritage-month-history/
2.U.S. Congress, House of Representatives, Asian?Pacific-American Heritage Month Bill, 102 Cong, October 4, 1992. http://webarchive.loc.gov/congressional-record/20160304132756/http://thomas.loc.gov/cgi-bin/query/F?r102:71:./temp/~r102kGPQ50:e0:
3."Statistics on Violence Against API Women." Asian Pacific Institute on Gender-Based Violence, https://www.api-gbv.org/about-gbv/statistics"-violence-against-api-women/
4."Empowering Young Asian American Pacific Islander Women to Stop Sexual Violence," International Exchange Alumni. https://alumni.state.gov/highlight/empowering-young-asian-american-pacific-islander-women-stop-sexual-violence