Light Up the Night
Honoring the Charles and Cappy Whiteside Greek Life Leadership Center
at the University of Arkansas
with Special Recognition of its Director Parice Bowser
Also Honoring Maggie Capel, Warden (retired) at NWA Community Corrections
Saturday Nov. 11, 2017, 6:30 p.m.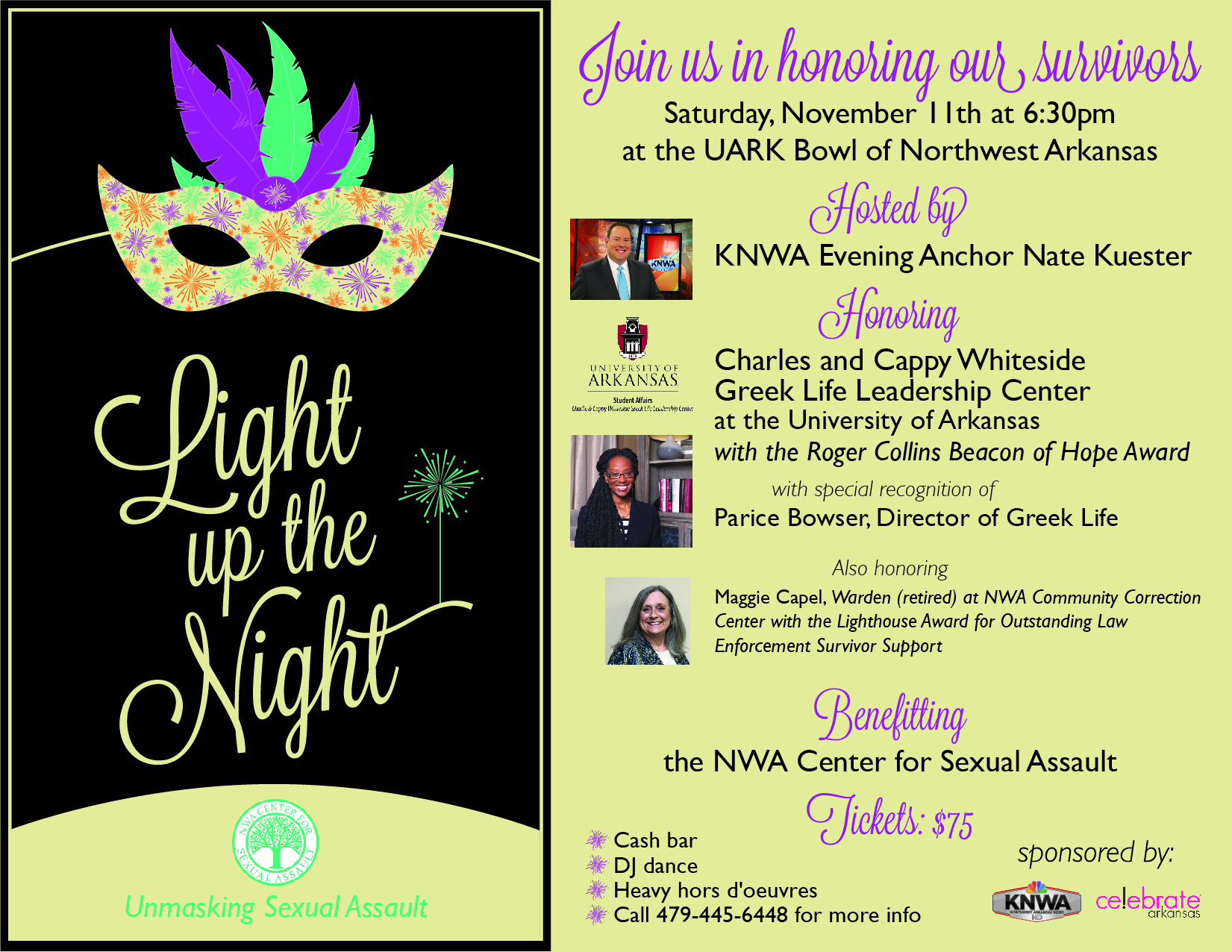 Help us Light Up the Night with your generous sponsorship!
Light Up the Night, hosted by KNWA News Anchor Nate Kuester, is NWA Center for Sexual Assault's annual signature event at which we unmask sexual assault and celebrate the strength of NWA survivors and honor those who make a difference.
At Light Up the Night, we award the prestigious Roger Collins Beacon of Hope Award for excellence in supporting adult survivors of sexual assault to a deserving individual or institution in our community that has gone above and beyond in supporting survivors and combating sexual assault. This year, the Charles and Cappy Whiteside Greek Life Leadership Center  at the University of Arkansas will be awarded this honor, with special recognition of its director Parice Bowser.
We also take this time each year to honor an individual of excellence in law enforcement support of adult survivors with our Lighthouse Award. This year that award will go to Maggie Capel Warden (retired) at Northwest Arkansas Community Corrections. 
Masks worn by attendees of Light Up the Night serve as a representation of the "masks" that many survivors of sexual assault wear every day to hide the feelings they carry from the assault. The unmasking of a survivor at the event will symbolically allow our community to unmask the issue of sexual assault so that we may all become beacons of hope in supporting our survivors in Northwest Arkansas.